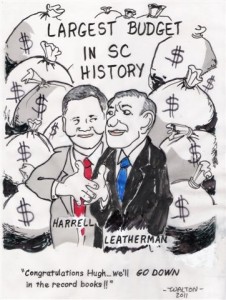 I love this Jamie Walton cartoon!  The voters will certainly take them down.  At $22 billion dollars, Senator Hugh Leatherman and Speaker Bobby Harrell orchestrated the largest spending budget in our state's history.
With unemployment sky high, Leatherman had the audacity to kill an amendment to the state budget that would have returned excess collections back to the tax payer.
Senator Tom Davis had the votes to pass the Tax Payer Rebate.  But before a vote could be taken Leatherman put his man, Senator Larry Martin, at the podium to speak for a couple of hours.  That gave Leatherman the time to twist some arms to change some votes.  You see, Leatherman would rather spend your tax money than return it. I think the idea of returning money to the tax payers must give little Leatherman the shivers and make him feel all queasy inside.
Larry Martin thought he had us fooled to think he was the "Tea Party" Senator earlier this year when he switch from calling the Roll Call bill a fad to lending it his support.  The record will show that his support of the Roll Call bill was the exception, not the rule.
Watch Larry call Roll Call a fad:

You can bet Larry Martin was steaming at Leatherman for making him argue against returning the excess tax collections to the people.  Larry's tissue paper thin "Roll Call" cover has been blown!   Achoo!
After Larry held up the vote while Leatherman twisted enough arms on the floor of the Senate, Tom Davis' amendment to return the money to the tax payer was defeated by a vote of 23 – 17.  You can see it in the Senate Journal by following this link.
Six Republicans voted with all the Democrats to defeat it.
The Palmetto Liberty PAC report card will expose all the Senators that voted against that common sense piece of legislation as well as many others.
Join us at Palmetto Liberty PAC as we make South Carolina the most free state in America!
Talbert Black