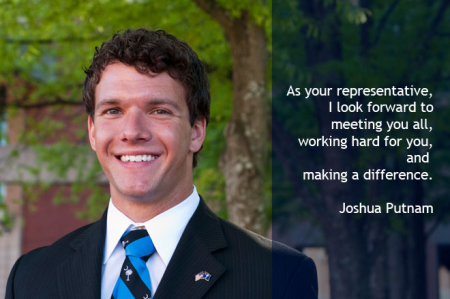 Tuesday, August 30th, 22 year old Republican Joshua Putnam won the race to represent State House District 10 that had been represented by the powerful Ways and Means committee chairman Republican Danny Cooper.
This special election went largely unnoticed around the state, but Dan Cooper's fall demonstrates the power of your voice!
Dan Cooper played a central role in delaying a new law that requires the state legislature to record their votes, by roll call, as they make laws.
As Chairman of the Ways and Means Committee, he was able to hold the bill that created this new law for two years without even allowing a vote on it. This may have been the beginning of his down fall.
Finally, the law passed earlier this spring. The roll call law requires that all legislators record their vote on every new law that is passed and on every section of the budget.
Before this law was introduced, the South Carolina House and Senate recorded their votes only 5% of the time.
Of course, the wheeling and dealing House leadership did not want to have their votes put on the record for all to see. This new law was opposed so strongly that its sponsor and chief co-sponsor were kicked off their committee assignments by the Speaker of the House in retaliation for introducing it.
In March of 2010, when it became critical to move this bill forward, Campaign for Liberty raised the money (from your donations) to run a radio ad in Cooper's home district to inform his constituents that he was holding up this bill. You can listen to the 60 second spot by following this link.
Cooper was inundated with calls from angry constituents over his refusal to hold a vote, but he didn't move. His secretary told callers that the bill would have to be recalled from his committee because he would not move it.
Near the end of the 2010 session the House finally voted to recall the bill from his committee, but because of Cooper's delaying tactics the law was not passed until 2011.
Cooper thought he could ignore his constituents without consequences. I'm sure Cooper thought he would be protected by House Speaker Bobby Harrell. But his constituents thought otherwise.
Enter Joshua Putnam.
Putnam decided to run against Dan Cooper and entered the Republican primary in 2010.
Now, I mean no disrespect to Mr. Putnam, but you need to understand the picture here. He was 21 years old, was not well funded (total contributions of $3,859.64), was not well organized, and his website and campaign video on YouTube looked… well… amateur.
Dan Cooper was the Chairman of the House Ways and Means committee, well funded, well organized, and one of the four most powerful men in state government.
By conventional wisdom, Cooper was not vulnerable and should have won this primary election by a landslide.
I didn't find out about that Joshua Putnam's challenge to Dan Cooper until after the primary was over and I was scanning election results.
Putnam, an underfunded, under-organized, youth lost the primary to a well-funded, well organized, chairman of one of the most powerful committees in the general assembly by 131 votes. Putnam got 49% of the vote.
Putnam lost that first race, but he exposed Dan Cooper's weak position.
What I realized, as did many others, was that Dan Cooper was a political zombie. He was the walking dead. An organized campaign would put him out of his undead misery in very short order.
Dan Cooper realized that, too! He did not want the embarrassment of losing his seat in an election. He resigned his seat earlier this year and took a lucrative job with Clemson University as a consultant (read lobbyist).
That opened the way for multiple folks to run for the seat he vacated in a special election this year. Putnam retained a professional campaign consultant and this time ran a well-organized professional campaign and came out on top on Tuesday, August 30.
Joshua Putnam, now 22 years old, represents State House District 10, and is the youngest Representative in the Statehouse.
No doubt, there were many factors that lead to Cooper's resignation and Putnam's election. But it would not have happened if his constituents had not been provided good timely information on Cooper's obstruction of good government.
The radio ad that was funded by your donations was a key component of getting the word out. And, had Putnam not challenged Cooper in the primary last year, Cooper would never have resigned.
Imagine being able to repeat this all over the state!
There are many of our legislative leaders who feel invulnerable. They assume that we can be ignored without consequence.
I refuse to let that assumption go unchallenged!  That is why I have organized Palmetto Liberty PAC.
I've combed through the voting records in the Senate, and am now going through the House records. I'm finding the votes clearly show the RINOs that need to be replaced.
The Senate analysis is complete and can be found here.
It clearly shows which Republicans need to be challenged in the GOP primary.
Palmetto Liberty PAC will run radio ads and send direct mail to the constituents of these big government Republicans to inform them of the bad record of their legislator. Palmetto Liberty will also support candidates that have been recruited and vetted by their local grass roots constituents as well.
But, Palmetto Liberty can only do as much as we have funds to accomplish.
So, please give your most generous donation possible. A small monthly donation goes a long way. You can make a onetime donation or set up a monthly recurring one at www.PalmettoLiberty.com/donate.
You can also mail a check to Palmetto Liberty PAC, PO Box 293, Lexington, SC 29071.
Most importantly, spread the word!
Together we can make South Carolina the most free state in the nation; but, only if we challenge those who stand in our way!
Don't let our big government Republicans in the Statehouse go unchallenged! Go to www.PalmettoLiberty.com/donate today and join the fight!