You did it again!!
Tuesday, January 10th, the South Carolina House of Representatives voted to sustain the governor's veto of the I-95 Corridor Authority.  The vote was 76 – 47.
Your emails and phone calls put a stop to one of the largest increases in government control and spending in recent South Carolina history.
Remember, it had already passed both the House and the Senate.
Fortunately, Gov. Nikki Haley rightfully vetoed it.
Then the Senate overrode her veto 30 – 10!
It looked like the House was prepared to do the same!  Only 17 members originally opposed its passing!
We needed 42 to defeat it.
But because of your efforts 76 House members sustained the veto and voted against this bill!
Awesome!
Kudos to all involved.   This is another battle won!
You are really making a difference in our State House!
This year we're more knowledgeable and motivated than ever.
Because of your diligence, 2012 can be a great year for South Carolina as we move to liberate our state from tyrannical legislators, crony capitalism and stifling bureaucracy.
In spite of all the condescending remarks from our legislators, in spite of all the name calling in the media, you hang in there and push forward.
I'm proud to know you and work beside you!
As we press forward, our goal is to replace legislators who consistently vote against us.  That will take not only time, but money.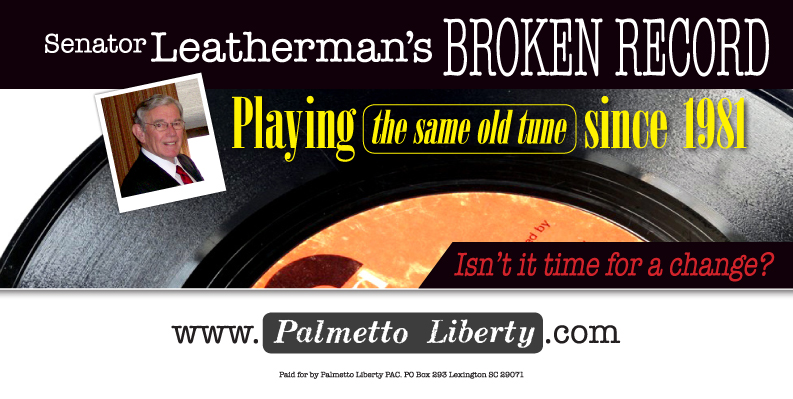 Things like this post card, unfortunately, cost money to design, print, and distribute.
Palmetto Liberty PAC was formed for exactly this purpose.
If you can help, please follow this link and chip in $10, $50, $100… whatever you can give, to make sure we have the resources to make South Carolina the most free state in America.
That money will help us continue to fight the battles in the Legislature and at the Polls!
Best regards,
Talbert Black Jr.
Palmetto Liberty PAC
P.S. The House voted to sustain the governor's veto today 76 – 47 thanks to your hard work.  Several times the Democrats mentioned the "mysterious forces" opposed to this bill.  They surely meant you!  In order to replace those who consistently vote against us, we'll need the resources to replace them in primary elections across the state.  Please follow this link and chip in $10, $50, $100… whatever you can afford!  Thanks!!!
Representatives who voted for the I-95 Corridor Authority:
Agnew
Alexander
Allen
Anderson
Bales
Battle
Bowers
Branham
Brantley
G. A. Brown
H. B. Brown
R. L. Brown
Butler Garrick
Clyburn
Cobb-Hunter
Dillard
Funderburk
Gilliard
Govan
Hart
Hayes
Hodges
Hosey
Howard
Jefferson
Johnson
King
Knight
Mack
McEachern
McLeod
Mitchell
Munnerlyn
J. H. Neal
J. M. Neal
Neilson
Ott
Parks
Rutherford
Sabb
Sellers
J. E. Smith
Stavrinakis
Vick
Weeks
Whipper
Williams