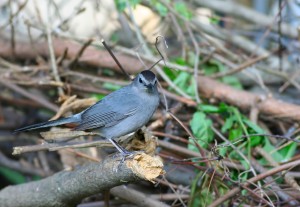 "I'm in the catbird's seat!"
That's what former Senator Jake Knotts said when he single-handedly stopped a bill last year.
It was the bill that would have put every challenger that was kicked off the ballot, including his challenger, Katrina Shealy, back on the ballot.
But he didn't want Katrina back on the ballot in a fair election.
So, he "put his name" on the bill to stop it dead in its tracks.
You see, the Senate has a tradition that allows any one Senator to "put his name" on a bill and keep it from ever getting a vote.
That's right! One Senator can kill any bill at any time.
That's too much power for one Senator!  Don't you agree?
Jake Knotts is gone, he lost his election.  But the cat bird seat is still there to be used by the next bully Senator.
In fact, Brad Hutto used the one Senator objection to stop a bill that would have eliminated the Legislature's exemption to the Freedom of Information Act.
Sure enough, that's too much power for one Senator.
But on Wednesday, we have the opportunity to eliminate that cat bird seat.  We can stop the one Senator objection.
On Wednesday, the Senate will be setting their rules for the next four years.  Many Senators are working to change the rules to prevent the one Senator objection from being used to stop a bill indefinitely.
But, like the bullies Jake Knotts and Brad Hutto, some Senators want to keep the one Senator objection.  They think it's good to let one Senator gum up the works and prevent a bill from getting a vote.
That's not a democratic process!  That's a tyranny of one holding up the will of the people.
Do you think we'll ever be able to nullify Obamacare if the one Senator objection is not eliminated?
It's time to end the one Senator objection!  All it takes is a simple majority vote.  But my sources tell me that we are about two votes short.
Call your Senator and make sure he is not the one holding up this rule change! 
No matter how sure you are that your Senator will support this rule change, call him anyway and make sure.  Nothing can be left to chance.
Don't accept any excuses!
And make sure your Senator will demand a roll call vote so that we can hold those that vote against this change accountable!
This will be one of the votes on the 2013 score card.
[The normal link that I give you for finding your Senator is not currently working.  It appears the guys over at the Statehouse are doing some maintenance updating for new Senators.  But if you have your Senator's contact info, call today! Currently not working link: You can find your Senator and his (or her) contact information by clicking here and entering your address. ]
Don't wait . . .  call now!  They'll be voting soon!
Let's put an end to the catbird's seat.
Thanks for all you do!